I found this photo online (I didn't take the picture) - it's an excellent shot of Bay Lake Tower with a perfect view of where our room was. I have the room outlined with a white box: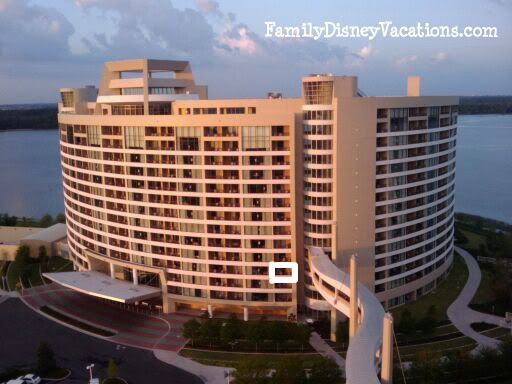 As I mentioned before, we agreed to stay on a low floor because that room happened to be ready - not sure how high up we were originally supposed to be. Hey - it felt high when we were standing on the balcony, lol!
So, as you can clearly see, we had a perfect view of the parking lot. I asked for a Magic Kingdom view and spent the points for the view and yes, we could see the Magic Kingdom but I will never spend points for that view again.
All in all it was a cool looking place but it lacked the 'Disney' feel. I was surprised at how small the Top of the World Lounge is and how small the fireworks viewing area is as well. We had loose door handles in 2 rooms and the towel holder in the 2nd bedroom's bathroom was coming out of the wall. I cannot believe how 'beat up' the room was considering it's not even a year old yet :(
I picked BLT as our home resort because it is the newest DVC, has low yearly maintenance fees, we got a deal on price per point when we bought and the location; being on the monorail line is a plus. I don't regret the decision at all but I know we are looking forward to staying at other DVC resorts in the future.